We can't solve problems by using the same kind of thinking we used when we created them.     Albert Einstein
For the master's tools will never dismantle the master's house. They allow us to temporarily beat him at his own game, but they will never enable us to bring about genuine change.     Audre Lorde
The world has changed so much since I was 20.  I am not only speaking about the internet and gay marriage, which are good things, but rather how it seems harder to find your way socially and economically.  The road to economic security far more bumpy. Alienation is rampant. Workplaces are often dehumanizing and many people hate their jobs. There are many causes of this breakdown in our culture, environmental degradation, wealth inequality, a weakened  labor movement, unbridled capitalism, systemic systems of oppression, government cutback of social services, unsustainable and consumer driven lifestyles.  My generation (I graduated high school in 1981) did not do enough to build communal spirit and tackle key problems.  We gave greed and materialism a pass.
I was lucky enough to be part of a generation that had access to higher education that was affordable. Unlike many of today's graduates, I did not graduate from college in huge debt. I could choose meaningful work even if it did not pay well. I could travel and choose to live alternatively. Currently, student debt is crippling and thus limits choices after graduation.  From the get go, you have to make money to pay off your school debt.  This is the beginning of the golden handcuffs that force people to work for money rather than to have meaningful occupations.
I am not surprised when I meet people in their 20's (which I do quite frequently since I have a 24 year old daughter) that they are frustrated with their lack of prospects and are often not sure what to do with their lives.  Given my generation's failure to usher in a world with better prospects, I hesitate to give advice.  Nonetheless, this is what I think: Pursue paths that teach you how to think and live differently. If you can learn one thing, it would be how to radically share resources.  This solves many problems including alienation and economic instability.  Millennials are already choosing to live communally out of necessity.
Egalitarian income sharing communities are models for radical sharing and living in non-hierarchical ways that offer a way of life that gets us away from competition and the scarcity mentality and instead offers a way to learn skills that build cooperative culture.
No one really knows how life will change as the planet heats up, but we do know that we cannot and will not be living in the same unsustainable way we live now. At the very least, we can predict that we will be living with scarcer resources and less mobility.  People will have to work together and share more.  In the future it will be helpful for people to know how to grow their own food and conserve water  People simply cannot be so wasteful.  Conservation and community building will be the key to your happiness.  It will be important to learn to live simply and by that I mean learning to be happy with what you have and getting out of the more is better mentality. Learning to find joy in connecting with others, sitting around having good conversations and working side by side will be the best way forward.
What are the tools for building this way of life?  This is a complicated question that is explored in  Maikwe Ludwig's upcoming book "Together Resilient" (soon to be released).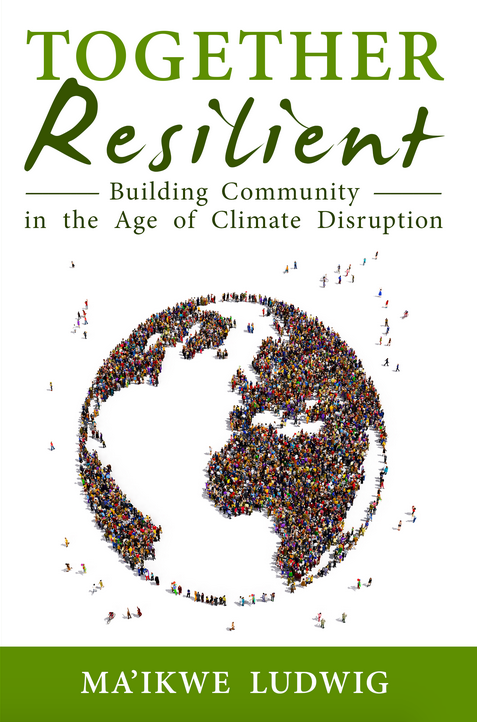 College is no longer the only way forward.  I am not even sure it is the best way forward.  (A comical perspective on this assumption.)  Sadly our education system with its emphasis on test scores and competition does not emphasize cooperative culture skills.or the skills needed for a post climate-change world.  Many people leave college having never really learned the skills required for building community the heart of which is cultivating a sense of interdependence and problem solving.  I am not saying everyone should abandon college aspirations, but I do want to offer another way for those who can't afford or are not drawn to academia.  The life lessons one learns when building and living in community are lessons that are transportable and don't leave you in a mountain of debt. For more information on income sharing egalitarian communities check out the Federation of Egalitarian Communities.
Aurora DeMarco lives and works as a member of Ganas, an intentional community in New York City.  She is also looking to join an FEC community down in Louisa Virginia.  She is 54 years old and a mother of two daughters.